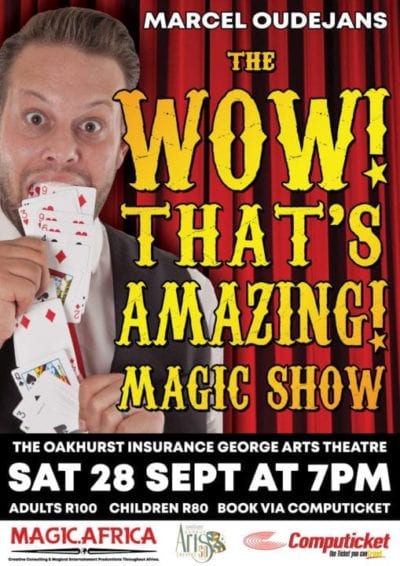 Expect wonder, laughter and mind-boggling surprises when magician and corporate entertainer Marcel Oudejans performs in
The "Wow, That's Amazing!" Magic Show
at the Oakhurst Insurance George Arts Theatre on Saturday, 28 September 2019, at 19h00.
Oudejans, who lived and performed in George for a few years very early in his performing career, regularly travels to African countries to perform his remarkable visual comedy magic for VIPs and dignitaries at gala dinners and special corporate events. Now, the public along the Garden Route will get this rare opportunity to see why this popular entertainer receives rave reviews from audiences throughout the continent, and has guest performed on various prime time South African television shows.
The "Wow, That's Amazing!" Magic Show is a 1-hour compilation of Oudejans`s favourite illusions and tricks from his 25-year career as a professional magician and you can expect to be constantly surprised and amazed by his sleight-of-hand skill and witty sense of humour. But this is no "children's magic show"; the show will most certainly appeal to adults who love to be entertained and baffled by magic and illusion.